Topographic surveys, adjustments and stakeouts of works, earthmoving cubic calculations and more
TOPOGRAPHIC SURVEY is the basis of any project for both its study and its execution. We always plan in advance what the needs of the project are and its precision margins in order to choose the surveying methods applicable and the measuring instruments. We have carried out large topographic surveys (700 hectares) for mining operations and wind and photovoltaic parks, either with GPS surveying or drone flights.
Before we start a project we always verify whether it corresponds with the real situation and for that the ADJUSTMENT OF THE WORKS is essential for its subsequent development or to certify any variation such as discrepancies in the planimetry or altimetry or variation in volumes.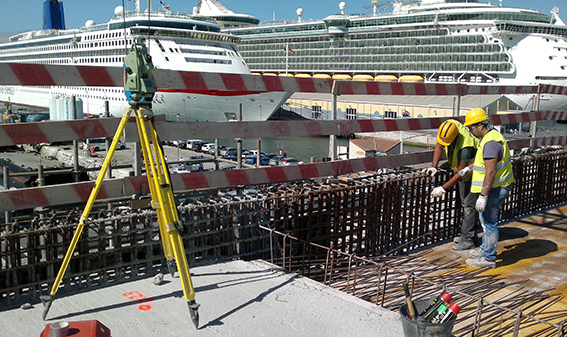 We have extensive experience in civil engineering works, large buildings and residential developments.
The execution of the project is carried out fundamentally with the STAKEOUT SURVEY. We are aware of how essential this aspect is for the project's budget and its benefits, and therefore our maximum dedication and the means to carry it out.
We have worked extensively in EARTHMOVING CUBIC CALCULATIONS, both with the property and with the subcontractor. You can always rely on our numbers as they are fundamental to the work and speak of our credibility.
AUSCULTATION is a method to keep track of the evolution of possible movement in buildings, dams or land. It needs very clear concepts of precision. We use the appropriate surveying methods and all the necessary instruments to achieve maximum precision.
We carry out ESTATE MEASUREMENTS to check its surface, carry out segregation or any Land Registry requirements.